In part two of our article exploring Myo Liverpool Street's interior design, we talk to Frans Burrows and Bolivar Marcon from architect and design studio Bluebottle about the aesthetics of the space.
Read part one of our article exploring how to design a healthy office that's also an inspiring workplace.
How to find inspiration for office interiors
"The Myo Liverpool Street office design inspiration came from the original 1970s building and a contemporary take on the Mad Men mid-century aesthetic."
You heard it here first, London-based architect and design studio Bluebottle which tackled the office interior for the second flexible office space from Landsec – Myo Liverpool Street, took inspiration from the most visually pleasing office on television: Sterling Cooper from the hit show Mad Men.
Frans and Bolivar took their inspiration and applied it to the space, creating a "1970s-meets-contemporary aesthetic".With the show as a design "anchor point", they instinctively felt that the end-users, the workers who inhabit the space, would appreciate design that had a point of differentiation.
The 1960s and 1970s shook off the drab colours of the post-war period and sofas were becoming much more commonplace in offices, bringing a more relaxed feeling into working space. This in turn facilitated a growing appreciation for a working style which encourages creativity and collaboration.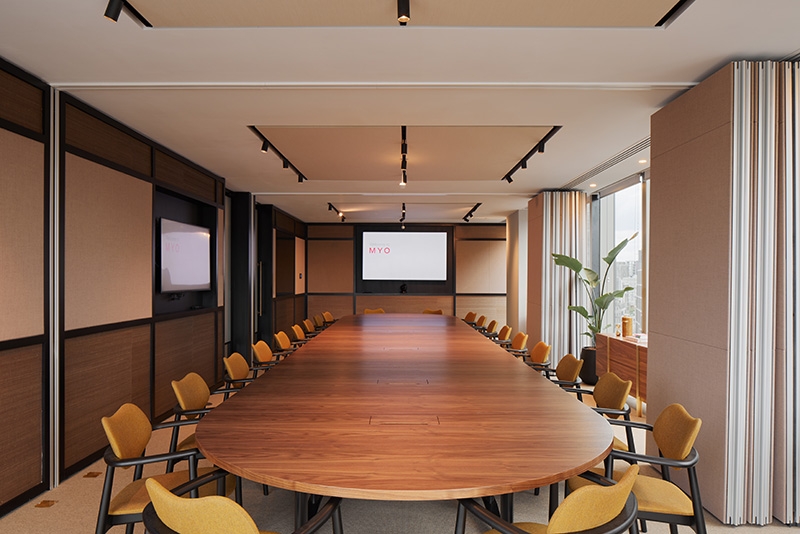 A perfect marriage then for Dashwood, the 17-storey tower in the City of London that Myo Liverpool Street calls home. The original building was built in the 1960s with some reconstruction in 2009 (which allows it to benefit from modern construction methods such as the latest in environmental technology). Taking four floors of that historic but revitalised space, Myo Liverpool Street called out for a complimentary design that would also meet the practical needs of a flexible office.
Take one look at the interior design of Myo Liverpool Street and you can see that revolutionary spirit at work.
Mid-century inspired furnishings and natural materials create spaces which encourage communication and out-of-the-box thinking. Warm hues of olive green, mustard yellow and burnt orange tie those compartmentalised spaces into a cohesive whole. The informal communal spaces invite spontaneous catch-ups, while the increased structure of the private offices and meeting rooms facilitates private discussions and focused work.
Frans and Bolivar's initial vision has translated into a distinctive, stylish, comfortable and functional space.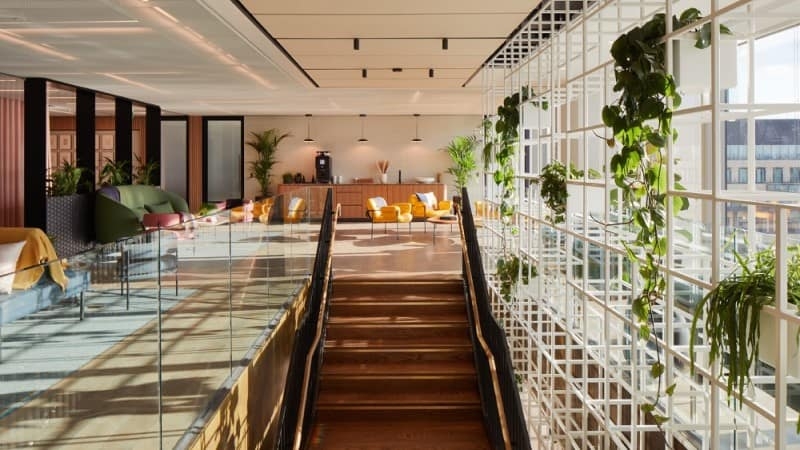 Using design features to connect office spaces
Both designers agree that their favourite aspect of the office design is the staircase linking floors seven and eight.
A lift can do the easy job of allowing people to travel between floors, but the staircase acts much more as a connector, bringing the two floors together, creating a flow of energy from one floor to the next. You enter the space and you know there is more to it than just the slice you're in. This feeling of connection is arguably more important in a shared workspace, where different businesses operate together.
The staircase also provides another opportunity for people within the space to meet – but in a less formal capacity. One of the biggest things we missed during lockdowns were the spontaneous workplace discussions and so-called 'water cooler chat'. These day-to-day interactions were often taken for granted, until we realised that they inform so much of how we work together.
A considered approach to workplace planting
In recent years indoor plants have made a big come-back within our homes and working spaces.
Frans says the key to bringing plants into the office is "how they are presented and integrated. Often plants are used to fill an office corner and it becomes a gesture. When plants are integrated as part of the workspace architecture that is when you give them the opportunity to be truly impactful."
The team at Bluebottle made the deliberate decision to work closely with RoCo on biophilic design and installation studio to create an office space that included plants and greenery from the beginning.
So there we have it, a flexible office space in the heart of the City of London, built around wellness, comfort and flexible functionality, all the components required for the modern workforce.
Get in touch with the team to find out more about letting space at Myo Liverpool Street.