Myo Liverpool Street
Liverpool Street offices: where style meets service
Offering stunning City views from the 6th, 7th, 8th and 9th floors of the Dashwood building, Myo Liverpool Street offices are located just moments away from the rail and underground station with its unrivalled connections. Inside the newly redeveloped 17-storey building, you'll find timelessly refined interiors across four floors with versatile breakout areas, carefully curated artworks and an air of calm sophistication.
A serviced office space to make your own
Imagine your perfect office – and then let the expert design partners at Myo turn it into reality with our Liverpool Street offices. If you're not sure what your company needs from an office space, our designers can advise you on everything from plants and planters to lighting and layouts.
To make your transition to our serviced offices in Liverpool Street as smooth as possible, you'll have a single point of contact and a dedicated Move Maker on hand to help you settle in.
Liverpool Street offices come with a view
Myo Liverpool Street is as visually striking as it is versatile. Large floor-to-ceiling windows flood the space with light and offer stunning views across the city. As well as creating bright and airy shared spaces, these windows can be found in every private office too.
And, from the soft furnishings to the ambient music, every detail in our Liverpool Street offices has been designed to enhance the cool, calm, contemporary atmosphere. You can read more about the design of our Liverpool Street office here.
First-class facilities
One of the best things about our Liverpool Street offices is their multifunctionality as shared and private working areas. A feature staircase connects the centrally located shared facilities, including flexible, fully equipped meeting rooms.
Because we don't provide coworking desks, noise levels are low and we're able to offer large, dedicated breakout areas with a mix of soft seating, longer brainstorming tables, high benches overlooking Liverpool Street, and private booths – none of which need to be booked.
A style of its own
Inspired by the building's original 70s architecture, Myo Liverpool Street's sleek and sophisticated ambience stems from its eclectic mix of high-quality, contemporary furnishings.
Each piece has been carefully selected to bring a unique sense of style to every floor; a rich blend of materials is enhanced by a beautiful and bountiful array of plants.
Quality and tranquility
Step inside the centrally located Dashwood building, and you'll find yourself in a welcoming, contemporary double-height reception area complete with a terrace and café. This entrance gives a fantastic first impression to clients and visitors before they move through to Myo's offices.
What's more, because the building is owned by our parent company, Landsec, you can be confident that every last detail has been fully considered throughout.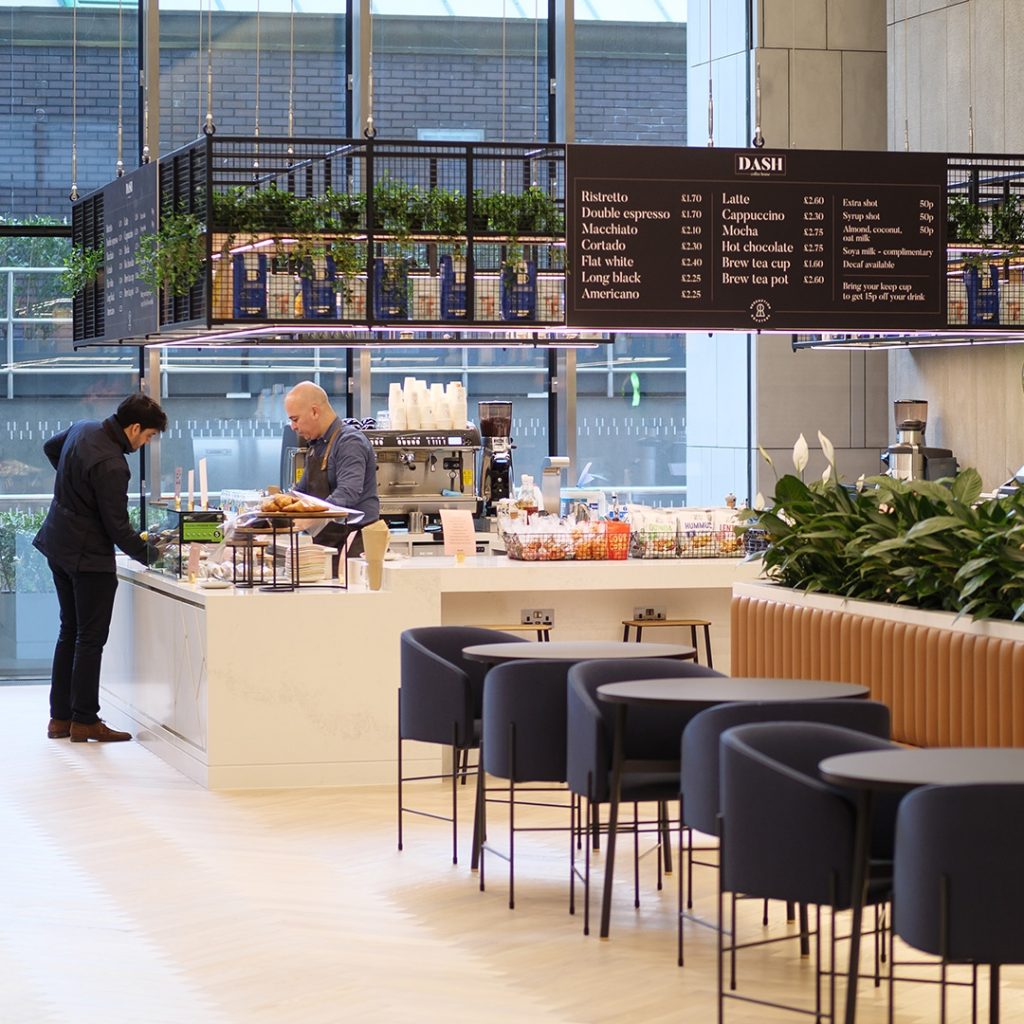 So, what are the benefits of a Myo Liverpool Street office?
Personalised space
While collaborative working is popular, should you require private space, our offices in Liverpool Street can accommodate both and are easily customised to suit your brand, working style, and needs.
Short simple lease
We make it our mission to provide rentable office space in a way that is as easy as possible for businesses in London. Unlike other offices near Victoria Street, our workspaces have simple, short-term leases with an all-inclusive price plan to make the move-in process as hassle-free as possible.
Boutique concierge
Another benefit of renting a Myo office in Victoria is its boutique concierge service. This personal, hospitality-style service is provided by a polite, discreet, and consistent team that understands the value of a serviced office.
Flexible meeting rooms
Whatever your working requirements, we can provide you with a range of high-specification, bookable meeting rooms and event spaces to facilitate your business's needs.
Sustainable Refreshments
Your team can't run on water alone. That's why, at our serviced offices in Victoria Street, we provide complimentary tea and coffee from carefully-selected sustainable suppliers to keep you and your business up and running.
Events & classes
We also offer a curated programme of wellbeing, cultural, and networking events at our Liverpool Street offices for you and your staff to enjoy, allowing for a more positive work experience.
Cycle storage
If you ride a bike or scooter to work, our offices to rent in Victoria have more than enough storage to keep your ride home dry, safe, and secure until you are ready to use it again. We also have an impressive range of other facilities to make a trip to the office as enjoyable and convenient as possible, from hot, clean showers to a complimentary towel service.
24/7 access
Here at Myo, we understand that work is more than just a 9-5. Sometimes last-minute projects and international meetings require staff to be present in the off round the clock. So, our serviced offices in Liverpool Street offer 24/7 security and access.
Super-fast internet
When you set up at our Liverpool Street offices, you'll be pleasantly surprised by the speed of our internet. We make sure that everyone who works here can access dedicated, super-fast connectivity, that's ready to go from day one.