At Myo, we believe good design can achieve great things. Done well, it can transform our health and productivity; done badly it flat-lines everything from how we feel to what we create.
Designing Myo, Liverpool Street For productivity and beyond
At Myo, we believe good design can achieve great things. Done well, it can transform our health and productivity; done badly it flat-lines everything from how we feel to what we create.
The changing face of the workplace
If the past year has been anything to go by, where we work matters. Pre-pandemic the role of the office was already changing, and fast. We expected more from our working space than just providing shelter and air conditioning, even sustenance.
Why? Because the office is no longer a place where you simply go to work. Who needs to feel tied to their desks for eight hours a day, we believe you don't.
So we designed the office to serve people better. To support a variety of tasks and diverse ways and styles of working. To harness social interaction as a way of improving productivity.
Bringing Liverpool Street to life meant we could collaborate with architectural practice Bluebottle to put this all into practice, designing for good – with a workplace that improves health and wellbeing, and has productivity at its core.
A homely feel
Asking people to do their best work starts with giving them a space they're happy to be in. It is possible in the office – but you need to blur certain boundaries to make your space warm and inviting, over a cold and sterile environment.
"Our productivity is improved when we not only have access to facilities for carrying out our work, but also spaces for socialising, rest and play that are more traditionally associated with our homes and leisure spaces." Frans Burrows, Bluebottle.
To get that balance just right, we never limit ourselves to layouts and space planning. We focus on a number of things: plenty of different spaces to give our members the autonomy to choose where they work according to their mood or task, carefully selected natural materials and finishes, low VOCs, homely accessories and soft furnishings in a calm colour palette. Well-curated art and the right furniture – that's as aesthetically pleasing as it is highly functional. It all adds up to a place where people want to spend their time.
Nature is good for us
Generous planting inspires tranquillity and creativity, so we worked with RoCo biophilia design studio to plan in big leaf tropical plants and generous greenery around the shared spaces. Proven to reduce stress and increase productivity, biophilia brings living, natural plants into the office environment, softens the edges and looks more attractive.
The sound of silence
When it comes to acoustics, noise pollution is a productivity killer. Noisy spaces increase stress and impact our ability to focus and concentrate.
We collaborated with an acoustician to make sure ours didn't. It means the architecture of the space absorbs noise, so Myo spaces are set up for tasks that demand higher levels of concentration.
On the inside, we layered walls with acoustic insulation and detailed glazed partitions to avoid sound transmission. We also placed acoustic upholstered panels on meeting room walls and ceilings. Then, we use inlay rugs and heavy curtains around breakout areas to avoid reverberations and noise pollution.
Task-based working
Flexibility and customisation are key to the design of this project. By giving people the choice of where to work in our layouts, we also get them feeling empowered, known to improve productivity.
Firstly, we design spaces for different tasks, so Myo offers moments of quiet and focus. Then there are defined collaborative spaces for meetings, communal spaces for everyone and areas to socialise and relax in.
Shining a light on space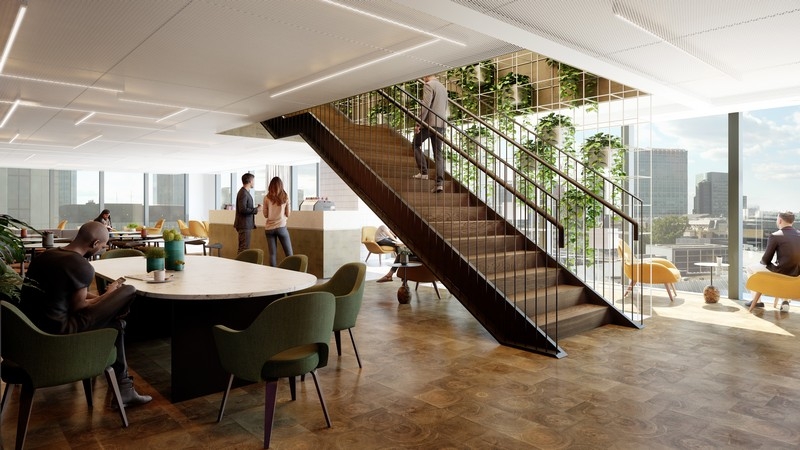 We know that natural light can improve moods, energy levels and productivity, so we designed the space to ensure all the private offices and shared spaces are flooded with natural light, thanks to the generous glazing that wraps around the building.
A feature staircase between levels 7&8 is full of light and encourages movement, as do the sit/stand desks, and having access to showers and bike storage to support exercise to and from work.
Extra safety measures
It wouldn't be a blog this year if we didn't mention Covid-19, and as well as supporting people through enhanced cleaning at Myo, brass features throughout the shared spaces, known for its antimicrobial properties.
WELL building standard
Together with Bluebottle, we designed Liverpool Street under the 'WELL' certification programme – a performance-based system for measuring, certifying and monitoring features of the built environment that impact human health and wellbeing, through air, water, nourishment, light, fitness, comfort and mind.
Clean air is key, especially in the middle of the City. That's why all our project materials were selected because they don't emit harmful airborne compounds. The mechanical ventilation is specified to ensure excellent air quality and maintain comfortable temperatures for work and concentration.
Naturally, we're going for Gold rating.